Hotel webdesign best practices [Including 7 website tips]
April 30th, 2019
"A good hotel website design is like your best employee, it promotes your hotel by giving your guests the best experience possible, 24/7."
Do you want to know how to get the best hotel website design as a hotel owner? This article will give you just the right insights in this challenge by giving you a few of the best practices and seven valuable ideas to apply today.
Hotel Webdesign
In the digital transformation a big factor of the success of your hotel website is the design. Let's start with some numbers (source: Sweor):
57% of internet users say that they won't recommend a business with a poorly designed website on mobile
38% of people will stop engaging with a website if the content or layout are unattractive
$2.6 billion in lost sales each year through slow-loading websites 
Those are some impressive numbers. But how do we overcome these hurdles?
Hotel website design should be payed close attention to if you want your hotel website to be succesful. How do you do this? For example by finding your way to a specialized company in digital marketing for hotels. Or you could get in contact with a more generic web design agency, usually this is a more costly option and something we do not suggest.
If you decide to go with a specialized web agency in your industry you can benefit from the specific experience in hotel website design that this company has. When it comes to the hotel industry one of the advantages of a specialized agency in hotel website design will be the experience with seamlessly integrating booking engines as well as understanding the hotel guests and their needs, resulting in the best hospitality experience possible.
Thomas Dieben, CEO of Becurious - Digital Marketing Strategies for Hotels: "The website design for a hotel is effective when it matches the identity and style of a hotel. The hotel website is pre-eminently a medium for enticing potential hotel guests with a unique and appropriate online experience. Hotels that are successful in this area have the ultimate tool for securing direct reservations as the unique hotel experience is hard to find on the hotel profile pages of OTAs."
The hotel website design should, as Thomas mentioned, perfectly match with the unique style of your hotel. Your brand identity should be visible and the benefits of directly booking through your website should be highlighted. If it is done right it will result in a beautiful website with the best conversion rate possible.
The result of finding the right website design for your hotel is that you will be meeting, or even exceeding your guests expectations resulting in more direct bookings and being able to focus on what you do best.
Get more direct bookings for your hotel now
Hotel Website Templates
As a hotel owner or manager you focus on conversion but also on being cost effective, template based websites can be just that. Hotel website templates are a common practice to start the design of your website. Templates are easily adjustable and can be fully customized to your hotel. A few examples of template based website providers are Wordpress, Wix and Squarespace.
Do you want to know why using Wordpress is not a good idea for your hotel? Read why not to use Wordpress.
Together with a Content Management System (CMS) they offer you an easy option to create and maintain a website. There are however also template based websites, that we highly reccomend, with a user friendly CMS solely for hotel owners and managers, Porter is one of them. Porter hotel website templates are designed with the hotel guest in mind and are easily manageable.
Back to being cost effective. The design of a hotel website with the use of a template is worthwhile since the setup fee will be lower or in some occasions there will not even be a setup fee. Wondering what the right template for your hotel could be? Keep reading and find the right template for you and your hotel or visit the Porter Template Gallery.
The best hotel website design ideas are:
Use full screen, high quality header images to impress your visitors from the first glance.
Highlight the benefits for your visitors to directly book a room through your hotel website.
Show your relevant deals for the season in a striking way.
Enable your visitors to easily view your website in their own language.
Making use of the best photographs possible made by a hotel specialized photographer.
Display your hotels best reviews.
A seamless integration with your booking engine. This way your websites visitors can easily make a reservation for your hotel
Another big benefit is that you do not need any knowledge of computer programming to maintain a multilingual template based website. With the use of a content management system (CMS) you can easily change content on your website, in any language that you like. Just in case you do want something changed to your website that involves any development, Porter offers service and support.
Hotel website examples
Enough talking, now it's time to show you some stunning examples of hotel website templates.
This is the Stockholm template which uses full screen heading images, a clear navigation with 'book' button, striking reservation panel and the possibility to promote specials. If you own a modern yet elegant hotel this is a perfect fit for you. 
Stockholm template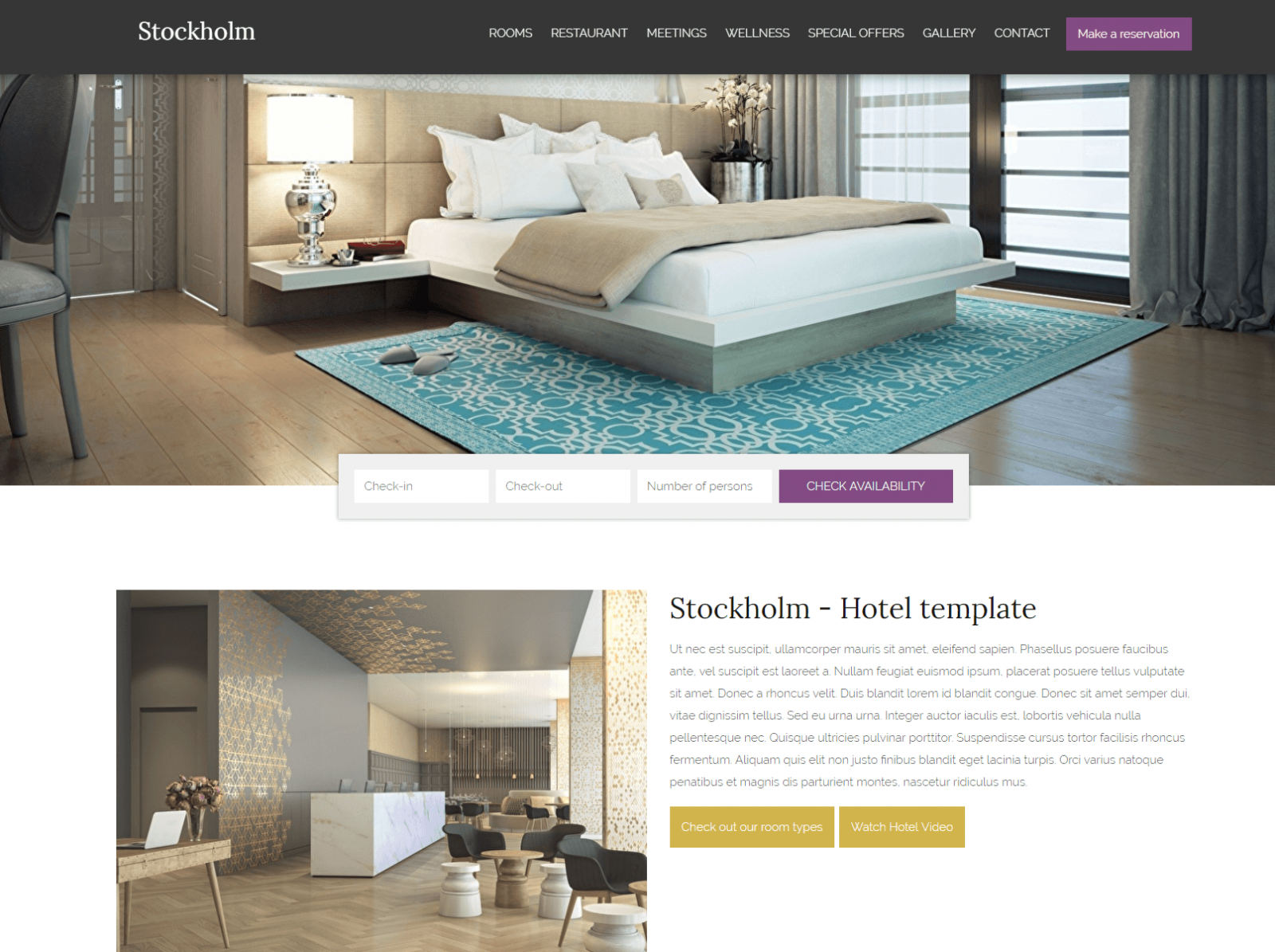 View the full Stockholm template.
View the full Porter Template Gallery
This is the Lisbon Hotel Website template and it's designed and developed with the 'mobile first' philosophy in mind. The clear call-to-action buttons make sure that websites based on this template have a high conversion rate. 
Lisbon template

View the full Lisbon template.
And last but not least the Valletta template. This template, which is only available for exclusive hotels, has an impressive heading image, dynamic overlay menu and user-friendly mobile navigation, and gives hotels the possibility to effectively showcase their unique and luxurious style and atmosphere. 
Valletta template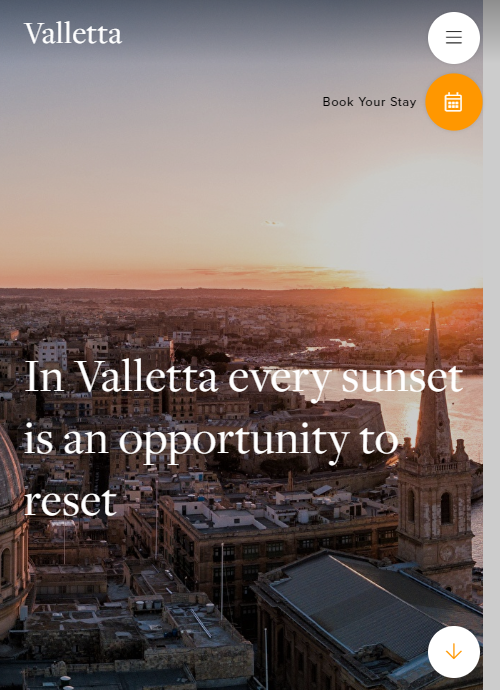 Do you think your hotel is impressive enough to make use of the Valletta template? Get in contact and let us know why your hotel deserves this template.
So now that you have seen appealing template examples and read 7 valuabe hotel website design ideas it's time to get to work and make your online presence a succes!
Got excited? 
Request A Demo or Get in Touch
30-04-2019
Overview